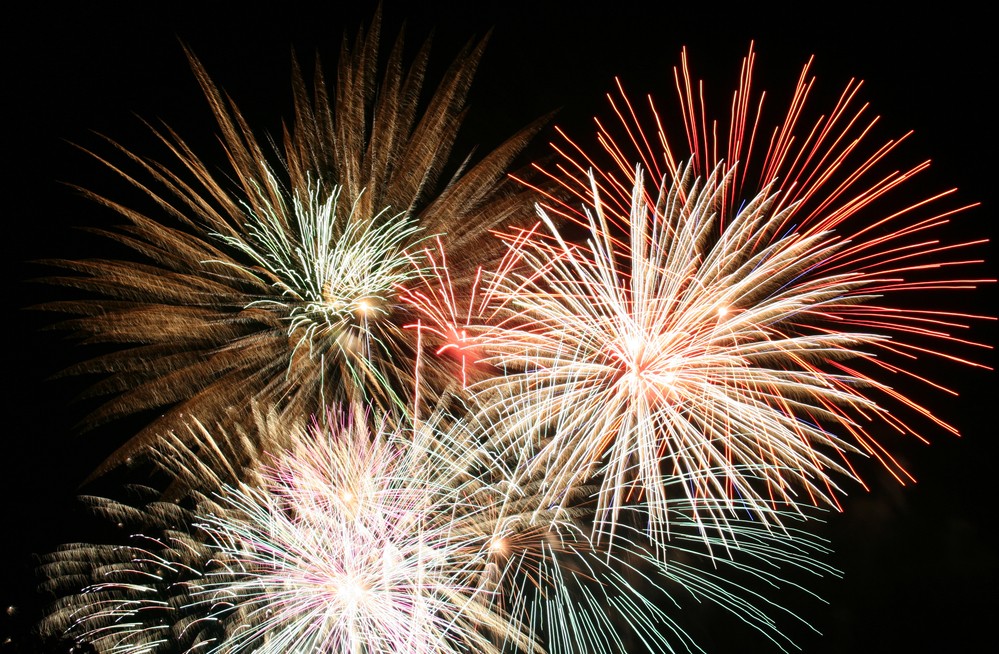 July Fourth is known as Independence Day because of the signing of the Declaration of Independence in 1776, but you can also use this as a great opportunity to celebrate your independence as well. Summer is a great time to get together with friends and family outside and enjoy the beauty and bounty of nature. Swimming, hiking, cookouts and many more activities are waiting for you, so get out there!
Group Gatherings
Group gatherings are a great way to have fun in the sun while boosting your spirits, especially if you quietly ask the host or hostess to request that guests respect that it's a sober party. Having all your friends and family around during the holidays can keep your mind occupied, too. A great option is somewhere like a carnival or a concert in the park, where there is lots of great energy and enthusiasm to keep you in a great mood.
Fireworks Display
Children of all ages love a fireworks display — from 1 to 90! All the bright, beautiful fireworks light up the night sky, and sitting out on the grass on a blanket with family brings back the simple joys of childhood. Be sure to pack snacks and plenty of water to stay hydrated during the summer heat. Even at night, the heat and humidity can catch up with you and cause dehydration so it's important to be prepared.
Local Events
Many towns have specific Fourth of July celebrations such as a historic re-enactment or parade. The bright, colorful displays will help you feel as though you're seeing a piece of history in the making — and witnessing the historic moment of our country's freedom over again. If your town doesn't offer any local July 4th events, create your own! Gather up the neighborhood and stage an Independence Day celebration around your home.
Celebrate your freedom this Fourth of July by finding a fun activity that keeps you busy and engaged. Whether you decide on a group activity or enjoy time with friends and family with a cookout and a backyard bonfire, there's plenty of ways to celebrate and still stay sober this Fourth of July.
The following links are additional gift ideas for everyday living in recovery.
http://www.my12stepstore.com/Sailboat-Wall-Plaque.html
http://www.my12stepstore.com/mugs-blankets.html
http://www.my12stepstore.com/75th-Anniversary-Edition-AA-Big-Book-and-Clear-Cover-with-Medallion-Gift-Set.html