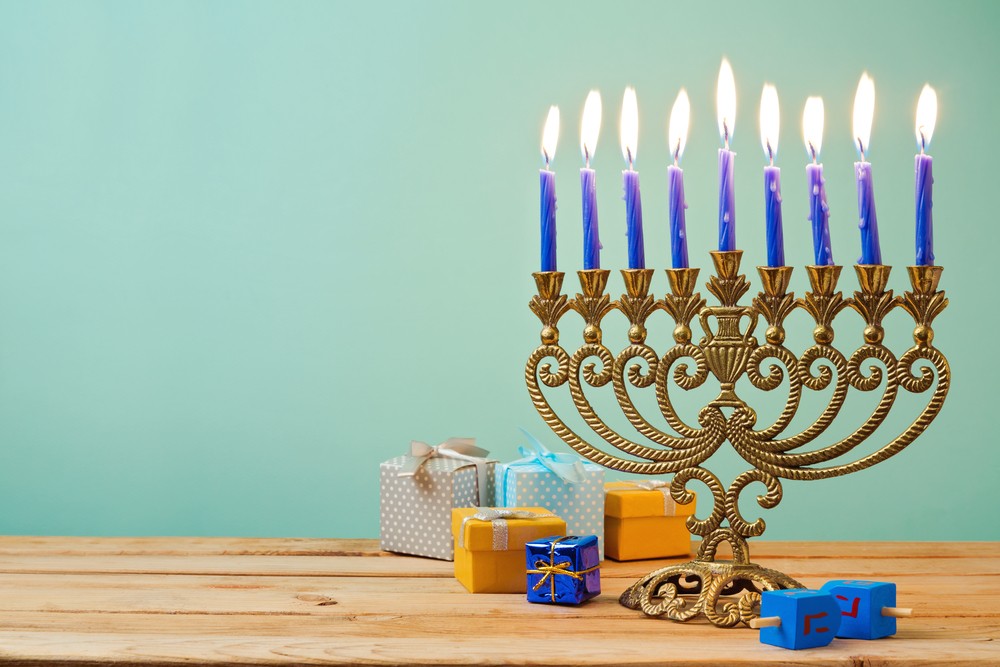 The holiday season can be enhanced when in recovery from addiction whether its drugs, alcohol, food or some other addiction. You can celebrate the holidays with your friends and family without being under the influence of anything that can alter your mood or cause others to not want to be around you.But, staying sober and keeping to a food plan during the holiday season is not always an easy fete. The holidays can be stressful, which can be a trigger. Remember it's not the first drink or bad foods that cause the problem, it's all the others that follow. Here are a few tips to help you remain on your recovery plan so you can enjoy Hanukkah or any holiday with your family and friends.
Hanukkah is the Jewish eight-day, wintertime "festival of lights," celebrated with a nightly menorah lighting, special prayers and fried foods. It is not always the same dates but usually the end of November and or first of December. The Hebrew word Chanukah means "dedication," and is thus named because it celebrates the rededication of the Holy Temple.
Keep a Non-Alcoholic Drink in Your Hand at Gatherings
One of the tips for having a sober Hanukkah holiday is to keep a non-alcoholic beverage in your hand when you are at holiday gatherings. When you have a drink in your hand, someone is less likely to offer you something to drink that you should not be drinking. Secondly, it helps you avoid the temptation of reaching for a drink that you shouldn't have.  Know what foods will be served and have a food plan that will be true to your recovery. If you have a food addiction you may already have a food plan for socializing.  Nowadays many people have food and beverage needs so it's not so uncommon to have request or specific routines. http://www.my12stepstore.com/Overeaters-Anonymous-Food-For-Thought-Daily-Meditation.html
Have an Exit Strategy in Place
Another tip for having an amazing Hanukkah or holiday celebration is to have an exit strategy in place. Have a time when you plan to leave and how you will leave. While celebrating tradition with loved ones can be fun, it can also be stressful at times. Some of your family members may involve you in their drama or ask you questions you don't want to answer. Before you attend any event, always have an exit strategy in place so you can make a quick exit if things start to get too stressful for you.
Lean on Your Program Supports
The last tip and be the most important for having a Hanukkah holiday is to lean on your program supports. Before you attend an event share your plans with your support system. Ask for their help or suggestions, they may have more tips that will be very good just for you.  If things get too stressful or awkward and you find yourself wanting to reach for drugs, alcohol, or the wrong foods pick up the phone and turn to your sponsors or support system instead. This can help you avoid a relapse and instead focus on the recovery path that you are already on.
These tips can help you to remain in your recovery program throughout the holiday season and allow you to enjoy Hanukkah or any holiday with your family and friends. Recovery from addiction is an accomplishment that should be rewarded. If you are looking for ways to reward yourself, be sure to check out My 12 Step Store. We sell a variety of items to help with your recovery and to reward yourself.