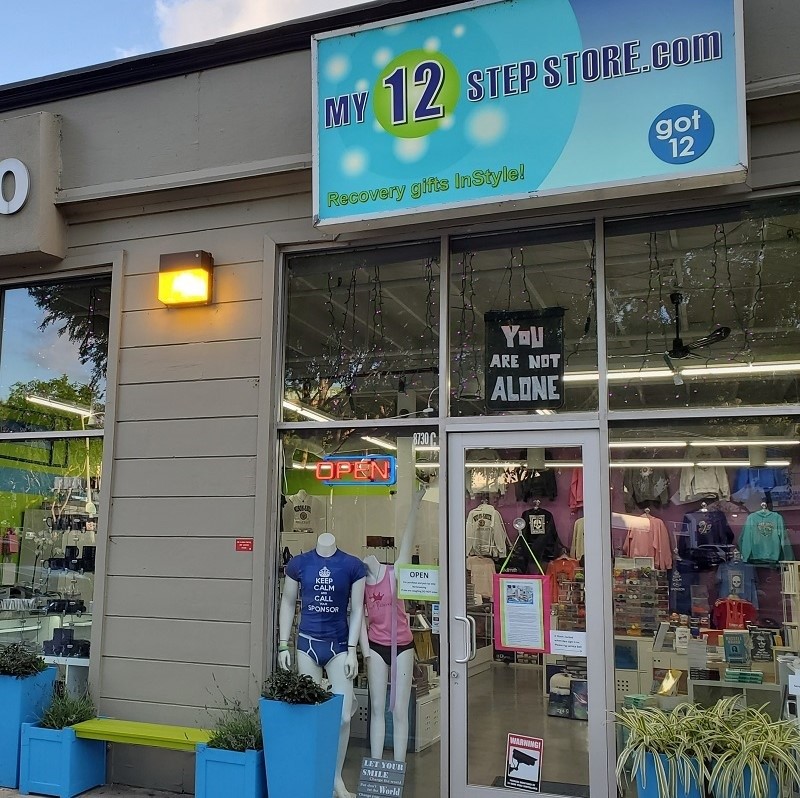 By WEHO TIMES News Desk  March 25, 2020
My 12 Step Store West Hollywood, the recovery gift and book store that specializes in 12-step literature, medallions and other sober celebratory gift items, is one of many West Hollywood small businesses taking a huge hit in retail sales as a result of the coronavirus (COVID-19) crisis.
With the Los Angeles County Department of Public Health's Safer at Home Order in full effect, 12-step recovery meetings are charting new territory as members of the recovering community gather virtually via remote video conferencing and live feeds through social media platforms to get the message of sobriety.
My 12 Step Store owner and founder, RJ Holguin, feels now is more important than ever to celebrate recovery, and to focus in a person's spiritual wellbeing during moments of self-isolation. Whether it's buying a self-help book to pass the time at home, getting step work literature, or simply purchasing a medallion for yourself, or someone you love, Holguin wants to remind the community that My 12 Step Store is open online 24-Hours a day, 7 days a week to meet the community's recovery needs.
"During the stay at home order and having only a few 12 step meetings online we are very much committed to serving our community with any essential needs to maintain recovery," he said. "It's not just people in recovery, who are overwhelmed with emotions at this time. Everyone is going through a painful or frightening time and many of the feelings are based on real concerns. Whether its 12-step literature, meditations and well-being books for anyone or ways to celebrate recovery, we are here for you. You are not alone."
The Los Angeles County Department of Public Health issued a Safer at Home Order that went into effect on Thursday, March 19, in an effort to help reduce the spread of coronavirus (COVID-19). The City of West Hollywood is in the jurisdiction of Los Angeles County, therefore The City is urging community members to immediately follow the LA County Department of Public Health's Safer at Home Order.
The purpose of the Safer at Home Order is to further restrict and limit the gathering of persons. It requires the closure of malls, children's playgrounds, and non-essential retail businesses in an effort to stem and slow the spread of COVID-19 in the region.
Some of the crew at My 12 Step Store are at the store every day from 10am to 4pm to fill online orders and available for local pick up. They are also answering any questions or offering support via online messaging and phone calls.
"We've been getting a lot of calls from people who just want to talk and connect with someone while they are placing their phone orders," said My 12 Step Store crew member Fernando Rojo. "It's nice to be able to able to keep someone company and help them feel a little less lonely."
"Thank you for your continued support and nearly 17 years of shopping with us," Holguin added. "We appreciate you. We look forward to serving you in person or 24 hours a day on-line and wish you good health and lifelong success as we trudge the road of happy destiny together."
My 12 Step Store WeHo first opened in Hollywood on September 2003. The opening coincided with National Recovery month. The store moved to the city of West Hollywood on January 2006. The store celebrated its 16th anniversary of servicing the community during recovery month this past September.
For more information visit, www.my12stepstore.com