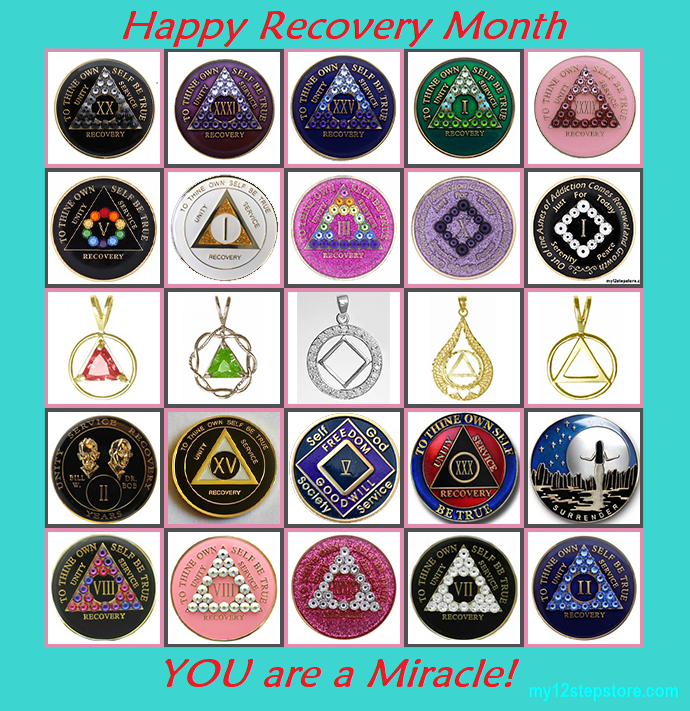 With September being National Recovery Month, this is an ideal time to think about how much you have accomplished and learn more about the recovery process. During the current COVID-19 pandemic, there has been an increase in substance abuse and a significant impact on mental health. Now in its 31st year, participating in the observance of National Recovery Month and staying connected to others is more important than ever. There are several ways to celebrate your sobriety and let others know where to go for help with addiction recovery or support. While most celebrations this year will be taking place on zoom and other online platforms it is a great way to meet and see other people from outside your area.
"I Can" Coin | Gold Sobriety Coin | My 12 Step Store

WHEN YOU ARE FACING CHALLENGES, REMEMBER… "I Can" The twelve qualities bursting from the center "I Can" are guides for your empowerment. When you feel you are at your lowest point emotionally, begin to FORGIVE, then as you refer to the gold sobriety coin, contemplate or meditate on each quality to bring your life back into balance.
Celebrating Sobriety 
Becoming sober is a challenging and ongoing process for those in recovery. Taking time to celebrate how far you've come is an excellent way to acknowledge your achievements and maintain the motivation needed for long-term recovery. You can celebrate your sobriety by taking part in community and online events for National Recovery Month. Participating in these events can help you learn more about recovery while also sharing resources with others who might need help.
The theme of this year's celebration is Join the Voices for Recovery: Celebrating Connection. Some of the events that are taking place include recovery walks in local communities, online gatherings for women in recovery, online bingo and virtual gatherings allowing people to share their stories about the recovery process. You can participate in these events in order to meet others from all over who have been going through recovery or set up your own local or online events. For example, you can look into hosting a recovery walk in your area or promote recovery resources on social media. Keep in mind that you can also use this month to educate people you know about recovery, such as family members and friends. Letting them learn more about your experience can help them appreciate how much you've achieved in order to become sober.
Recovery Resources 
Helping others find out more about addiction recovery and learning more about it yourself is a great way to honor National Recovery Month. The Substance Abuse and Mental Health Services Administration is hosting a series of informative webinars throughout the month, covering different topics on recovery. This year's webinars explore important addiction recovery topics from the use of medication-assisted treatment to the many ways in which community support is helping those in recovery. You can plan on attending these online webinars, zoom meetings and encourage people you know to join in.
My 12 Step Store would like to acknowledge and congratulate everyone celebrating recovery time. Whether its 24 hours, 24 days, or 24 years or more… Congratulations you are a miracle.
If you're looking for gifts for National Recovery Month, please visit My 12 Step Store to see our selection of items. From medallions and t-shirts to books and jewelry, you'll find a wide range of inspirational recovery gifts to choose from.