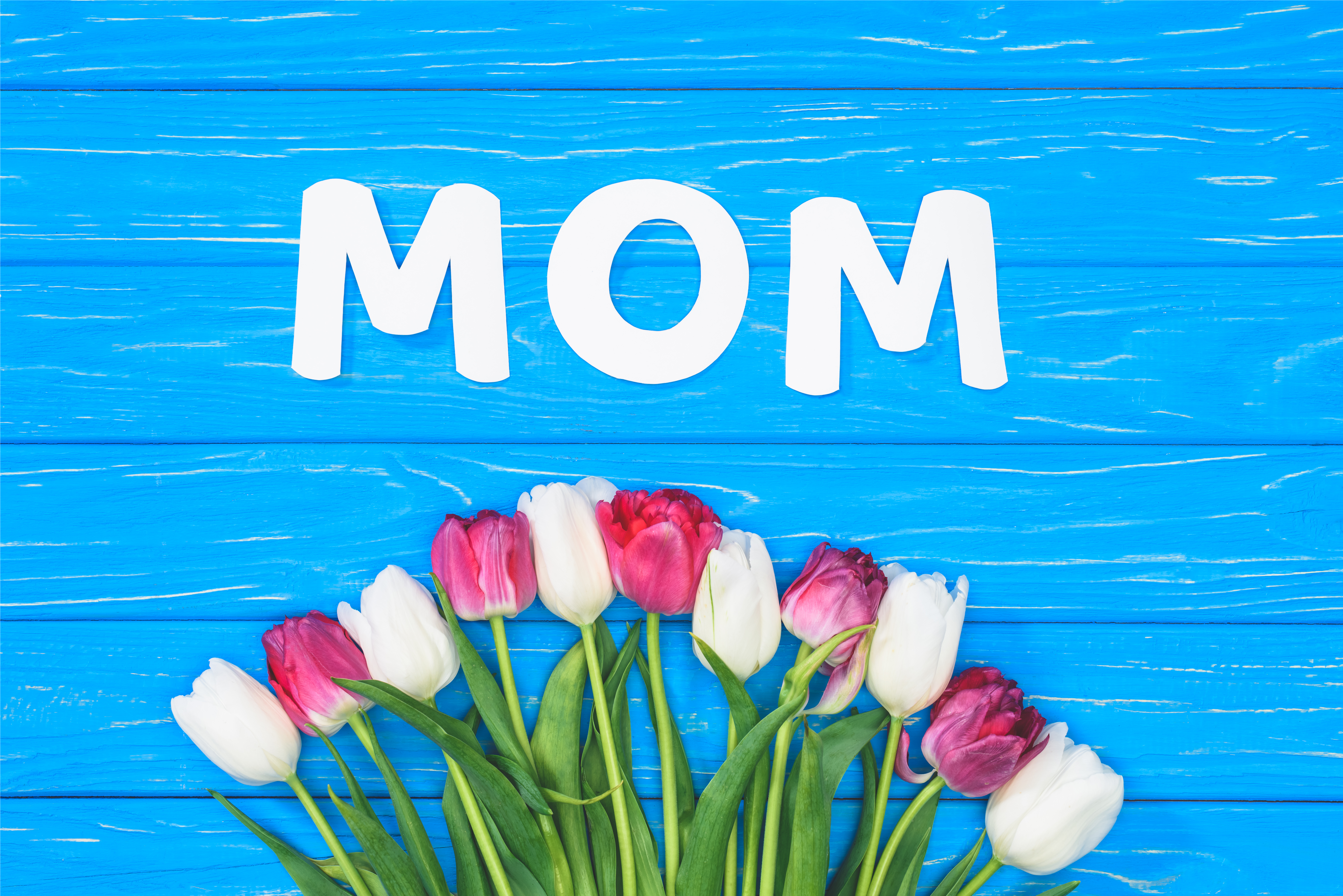 If only your problems would stop when you discontinue consuming drugs or alcohol, but that's not the case. The good news is, you can find continued support based on your life experiences. It's up to you to find what best encourages you, but some podcasts might stand out more than others. If you're not sure to which ones you should dedicate your ear, perhaps start with these five addiction recovery podcasts categorized into three groups according to how far along you are with living sober.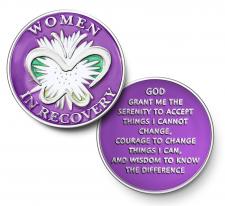 Butterfly Medallion | Women in Recovery | My 12 Step Store
This Women in Recovery medallion features the serenity prayer on one side and a butterfly on the other. Order the butterfly medallion at My 12 Step Store today!
Two Podcasts for Early Recovery
1. The Addicted Mind
"The addictive mind is fear: a fear to change. It's fear. You are set in your ways." -Kate Russel, Author of Down the Rabbit Hole
If you realize you need help but still feel stuck, The Addicted Mind could push you to decide to seek support. Featured guest star Kate Russel provides her support as she opens up during her March 5 appearance. This presentation, as well as other podcasts, including "Killer Graces" with guest star Steve Melon and Wanda Joy on this channel, demonstrate people who've endured childhood abuse and others who've felt imprisoned by their guilt and shame. You can witness what happens to them after they finally become honest with themselves.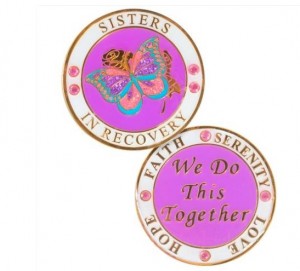 Sisters in Recovery | Butterfly Recovery | My 12 Step Store
Order this Sisters in Recovery medallion for you or a loved one. Shop a variety of medallions, books, cards, gifts, and more at My 12 Step Store.
2. Keeping it Friel
KTLA's Courtney Friel applies her news anchor skills to reaching far beyond the general recovery population. One episode, in particular, Advocating for the Voiceless with Diana Kean, explores the effect of a baby born addicted to drugs from the perspective of 22-year-old Kiana Dean.  She shows in the worst of situations how we can crawl out of the "victim mentality."
Continued Support for Staying Sober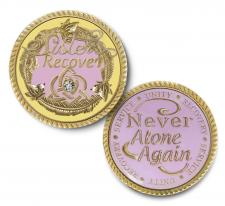 Sisters in Recovery Snapdragon Medallion
The back side reads. service, unity, recovery, Never Alone Again $ 17.95 Reg. Price $20.95 You Save $3.00 in stock New
3. Busy Being Sober
After just a few minutes of watching Elizabeth Chance in Busy Being Sober, you could call her "living proof that you can have fun sober." She seems to have a magnetic personality that draws people into her joy, and she shows people that although living sober is hard work, it doesn't have to be all drudgery. Being serious about your recovery doesn't necessarily mean you cannot laugh and have fun once in a while or enjoy life.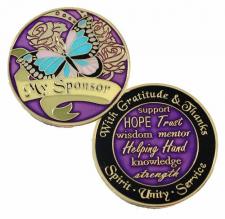 My Sponsor Butterfly Enamel Medallion
My Sponsor. Butterfly and Roses. This lovely gold, purple, blue, pink and black enamel medallion features a pink and blue butterfly, gold roses, & gold banner with the words My Sponsor on the front.
4. Recovery Happy Hour
So what happens after you become sober? Recovery Happy Hour can help you keep your mind off the booze or drugs during times when you perhaps used to sit at the bar. Tricia Lewis is the host, and one episode of note is her experience after four years sober.
"In 2016 I was obsessed with what I might miss out on if I quit drinking. At 4 years alcohol-free now, I wish I could go back and show her this video to explain that this — your life— is what you're missing," Lewis says about someone she knows.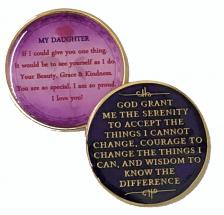 Sponsee | Butterfly Recovery Medallion | My 12 Step Store
Made with gemstones and inspirational quotes, this butterfly recovery medallion is a great reminder to keep moving forward. Find medallions at My 12 Step Store.
Motivation from Real People Interviews
5. The Bubble Hour
Hosted by 2017 Hope Award recipient Jean McCarthy, The Bubble Hour interviews a different person who reveals their personal stories. The honest talks on this show can inspire you whether you've been sober 24 hours or 24 years. Even at times when you feel like you cannot leave the house like most of us in 2020 during Covid-19 quarantines, these conversations can help you feel more like a part of a group even from a distance.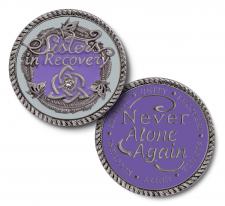 Sisters in Recovery Lilac Medallion
The back side reads. service, unity, recovery, Never Alone Again $ 17.95 Reg. Price $20.95 You Save $3.00 in stock New
Find more inspiration for getting sober and celebrating recovery when you visit My 12 Step Store.