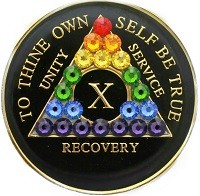 For the second year, My 12 Step Store West Hollywood will open a Pop-Up store in New York City during NYC Pride weekend, June 23-24, 2018. We are excited to announce the locations, which are in conjunction with the Gay Sober Men (GSM) Conference taking place June 21-24, 2018. GSM is a non-profit organization that provides a safe, fun, and enriching experience to the sober community encourage unity and enhance one's sobriety.
My 12 Step Store Pop-Up Stores will feature some of the most popular items found at our West Hollywood location as well as in our online store. Items will include the beautiful Pride Rainbow Swarovski Crystal Bling Medallions in various styles, along with our limited-edition GSM Commemorative coin, signature recovery t-shirts, various medallions covering a vast number of years, and much more.
Our Pop-Up Stores will take place June 20th – 25th. The primary location will be at Hotel Moxy Times Square. Other store venues located at the NYC Rosenthal pavilion and Circle Line sightseeing cruises.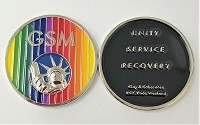 My 12 Step Store is coming up on 15 years of providing love and service for all 12-step programs in the recovering community. The recovery book and gift store is located in the heart of West Hollywood USA and ships worldwide. We offer various ways to make 12-recovery fun and livable for all walks of life. We have the largest collection of the splashiest medallion styles, fun apparel, Silver and gold 12-step jewelry including the Surrender Collection, along with prayer bookmarks, unique gifts and inspirational recovery cards.
Visit us online at: www.my12stepstore.com Email:  info@my12stepstore.com 310 623 1702
Visit us: My 12 Step Store 8730 Santa Monica Blvd.  West Hollywood CA 90069
New York contact:  RJ Holguin, RJdesignla@msn.com   RJ@my12stepstore.com
GSM is an International conference in NYC for gay and Sober men. The non-profit organization empowers community members to lead healthy, successful lives. It proudly celebrates the LGBTQ community's diversity and advocate for those that are new to the journey of sobriety. Their events facilitate face-to-face recovery and provide a safe, fun, and enriching experience to the sober community. Their primary purpose is to encourage unity and enhance one's sobriety. Conference dates are June 21-24, 2018. To learn more, visit: www.gayandsober.org Email: contact@gayandsober.org shop@gayandsober.org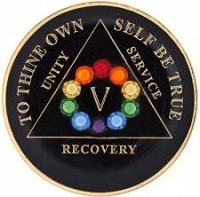 NYC Pride offers something for everyone during NYC Pride Week. Heritage of pride works toward a future without discrimination where all people have equal rights under the law. We do this by producing LGBTQIA+ Pride events that inspire, educate, commemorate and celebrate our diverse community. The week conclude with Out in the streets for the biggest Pride celebration in the world! On June 24th, 2018
For more information on events and times visit: www.nycpride.org/events/