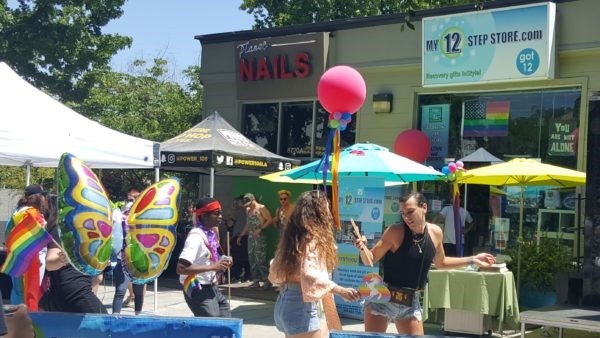 My 12 Step Store during LA Pride (Photo Courtesy R.J. Holguin)
You might think a store dedicated to sobriety would be out of place in the heart of West Hollywood's party scene, but My 12 Step Store been there for years.
It's a one-stop shop that fills an important need by selling all the essentials required for any meetings of the various 12-step programs – books, chips and medallions designating sobriety milestones – as well as racy clothing, jewelry, unique gifts and inspirational recovery cards.
R.J. Holguin, who is Founder and CEO as well as the store's Director of Marketing and Outreach, says, "Whether your addiction is alcohol, drugs, sex, love, food, meth or codependency – to list only a few – we have something for you and those you love."
On September 26, the store will celebrate its 15-year Anniversary with an alcohol-free mixer, in partnership with West Hollywood Chamber of Commerce, Institute for Public Strategies, West Hollywood Project, Keys to Recovery and WeHo Times.
Nestled in a prime stretch of real estate along Santa Monica Boulevard, the shop is more than just a familiar landmark for the bustling crowds and busy traffic that move past it, day after day.  It's a long-standing WeHo fixture – but it started out a little further east.
In 2003, Holguin, a designer specializing in hotel events, had an opportunity to take over a store front near his studio at Sunset and Wilcox.  It was an offer he couldn't refuse.
"I saw it as a way to give back to a community that I was a part of, both as a resident and as a person in recovery myself," he says.  "So, I opened a boutique-style store that would be welcoming and exciting to people who are clean and sober."
A year later, the building was bought by Magic Johnson's company, with an eye toward building condos in newly revitalized, hip-and-trendy Hollywood.  It meant relocation for Holguin's store, but that's what he wanted to do, anyway.  The problem was finding a suitable place to move.
"We needed to do it within a year, to get the moving relocation allowance," he says.  "I looked high and low, but for one reason or another, none of the places I wanted worked out.  Six days before the year was up, I was sitting in my car, heartbroken because I couldn't find a place that suited our needs, with a friend telling me, 'well, maybe you're not supposed to move and that's the end of the store.'  I surrendered to a deeper level, thinking if that was the case I would accept it – and then as I started to drive away, I noticed this eyewear shop that was closed, and I thought, 'Why are they always closed?  If I had that space I would be open at this time of day!'"
"Within 24 hours I was signing papers to take over the lease."
The new location has proven to be fortuitous.  Because of its central location, it's a go-to spot to buy the necessary chips and literature for meetings – and for those outside the area, the store offers a variety of shipping options.
One might think that a WeHo location would mean that his shop caters mostly to LA's sizeable "Gay AA" community, but Holguin says that's not the case.
"Our average customer is a woman not in the LQBTQ community," he says.
He elaborates, "I don't identify us as a store for LGBTQ, I identify us as store that's very supportive for LGBTQ and welcomes you.  We are a gift store.  If you are gift-giver you most likely will support us by buying gifts for friends and loved ones in recovery."
He also points out, "One-third to three-quarters of our business is online.  We ship all over the world. That's where we represent WeHo, and we want to shine like a star and be of service.  We get families traveling from Europe – they tell us our store is on their list to visit during their US tour. We welcome them to our country, offer our services, and wish them a wonderful vacation."
"It can make us feel very rewarded," he says.  "We're left with our hearts having been touched."
The store has also hosted several high-profile events over the years.  Holguin says, "We partnered with some big names and put on a celebrity Emmy party that made T-shirts for charity.  The shelves that house the recovery books in our store are from the premier party for "Ray," the movie of Ray Charles' life story that included addiction."  Ironically, he says that at the party they were filled with expensive bottles of Luis XIII cognac.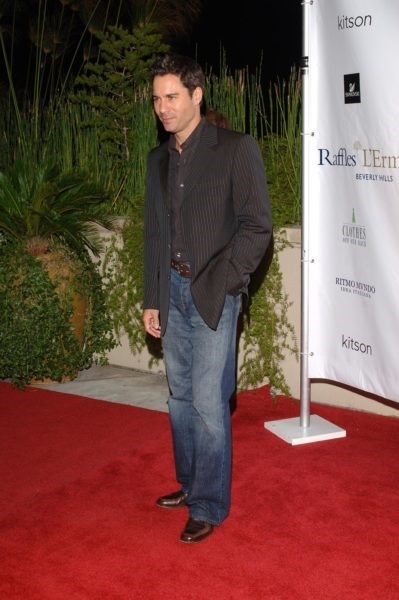 Eric McCormick at the store's Emmy party (Photo Courtesy R.J. Holguin).
And there have been the celebrity visits.  Holguin says "A memorable one was Steven Tyler, who stopped by with his band on their way to perform at the Hollywood bowl.  He drew us a piece of 'One Day at a Time' art that has become a signature postcard of ours."
On another occasion, he says, "Lindsey Lohan hid in the store during one of her runs from the paparazzi."
Such memories may be fun, but Holguin never loses sight of his store's true mission – providing support for those in recovery.  It's something he takes very seriously, and which goes beyond simply selling gifts and necessities.
"We believe My 12 Step Store has a purpose beyond the service we provide," he says.  "In my 32 years of recovery I have employed hundreds of people in all my businesses – sometimes for years, sometimes just for a day to help them out.  The store donates a portion of profits to charity and has a scholarship program for those newly recovering; we partner with many recovery organizations and travel out of state and country for events."
Such dedication has paid off by making My 12 Step Store not only a cornerstone of LA's recovery community, but one of the top five recovery stores in the world.
And what about that building Magic Johnson bought out from under him, all those years ago?
"It never got converted," Holguin says.  "It's still sitting there."
T-shirt featuring art done by Steven Tyler during a visit to the store (Photo Courtesy R.J. Holguin).
The My 12 Step Store anniversary celebration will also commemorate National Recovery Month, which falls during the month that My 12 Step Store opened its doors 15 years ago.  City of West Hollywood residents and neighboring communities will gather in the front courtyard of the store located at 8730-B Santa Monica Boulevard, West Hollywood CA 90069, on Wednesday, September 26, 2018 from 5pm to 8 pm. 
The store, known for its outdoor patio events, will convert the parking lot on the corner of Santa Monica Boulevard and Huntley Drive into a stylized party venue, complete with carpeting, and an illuminated bar serving mocktails and hors d'oeuvres from local restaurants. There will be a Live DJ featuring various songs related to recovery from popular artists. The event will also host a "My Fair Junkie" softcover book release and book signing with author Amy Dresner.