Father's Day can be tricky. Some dads can be awkward about receiving attention and gifts. While others are not living, and it triggers grief and or loss of loving memories and special times. Some dads have had little or nothing to do with raising their kids, and the relationship is not as strong as it could be. Some dads are heroes and forever live in the hearts of their children with loving gratitude. Whatever your situation is, time and recovery changes things and celebrating dad is different for everyone. Here are some Father's Day ideas: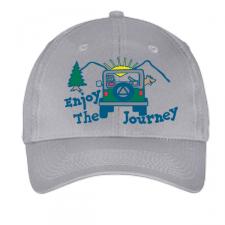 Enjoy The Journey Hat Grey
panel cotton hat with velcro closure one size fits all $ 19.95 in stock New
Great ways for Reaching Out on Father's Day
It can really be meaningful and helpful to your recovery to reach out. There's something powerfully healing about connecting with a parent (as long as it's safe.) Making an effort to honor them tends to bring us peace, whatever their reaction.
If there's been little contact, even a text can mean a lot to Dad. Cards and calls show that you remembered. A gift or making the time to do something he likes probably means more to him than he lets on. And it gives you the serenity of knowing you did what you could.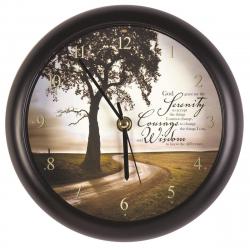 Serentiy Prayer Clock
Play one of three popular melodies on the hour Light sensor battery required 8"x 8" x 2" $ 26.95 Reg. Price $32.95 You Save $6.00 in stock New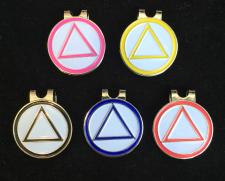 AA Magnetic Golf Marker
Measures- 1″diameter. Note: Each color sold separately, please select color in pull down menu.
15 Ways to Honor Dad on Father's Day
Here are some ideas for ways to celebrate Dad on Father's Day, whether you have a few minutes or a few days:
Take him out to his favorite place to eat, and don't let him pay!
Write a list of what you're grateful to him for.
Ask him to show you how to do something he's good at.
Do a chore he hates – cleaning gutters, cleaning a car interior, helping him organize files.
Apologize to him for anything you've done that hurt him or made his life harder.
Get him a thoughtful gift, like a bag of his favorite snacks, a comfy outside chair, a book that will mean something to himor maybe all three for him to relax with all at once!
Build something together, like a kite or a drone.
Go somewhere fun, like a game arcade or a mini-golf course. (Maybe you should let him win?)
Go listen to some live music that he likes.
Have a picnic.
Get tickets to see his favorite team.
Take some kind of class together. Cooking? Rock climbing?
Binge-watch a whole series together.
Make a campfire and have s'mores.
Trace your family history together.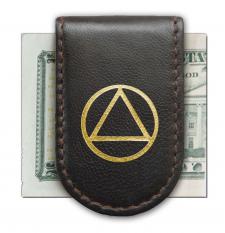 Magnetic Money Clip Wallet with AA Symbol | My 12 Step Store
Order this magnetic money clip wallet from My 12 Step Store. It features the AA symbol and makes a great gift for somone who is on the journey to recovery.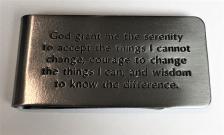 Steel Money Clip with Serenity Prayer | My 12 Step Store
Chanel abundance and keep the treasured serenity prayer close at hand with our engraved money clip. Made of brushed steel, this clip is built to last.
Whatever You Choose, He'll Be Grateful.
These are just a few ideas to get you going. Whatever you choose to do or buy for your dad on Father's Day, he'll be grateful.