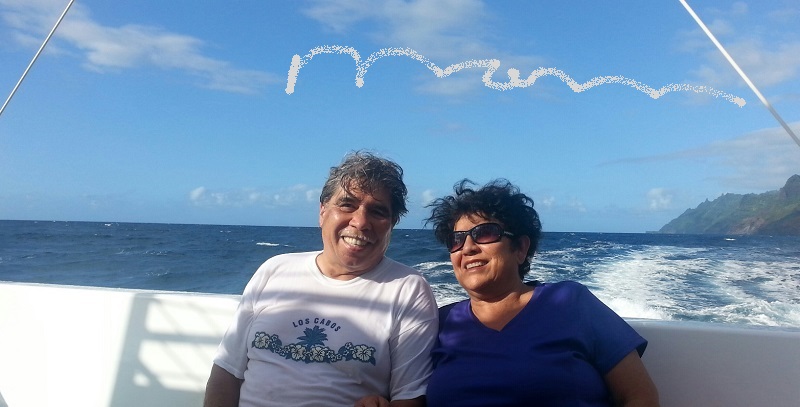 So, Mother's Day is near, and I already sent a card in the mail. It arrives a week before the day when sons, daughters, friends and family celebrate their mothers in the U.S. This way, mom can put the card out and enjoy it awhile as she may do with other cards that she is bound to get leading to this special day. I'll bring another card along with flowers when I make the traditional 3-hour road trip to spend a few days with her and the rest of my family. Dad will be right there. My parents have one of those still-in-love marriages of nearly 60-years and their love is still going stronger than ever—and I mean the kind of love where dad still opens the car door and they hold each other's hands when they walk as they did in high school.
Our family will traditionally get together and we'll celebrate all the other moms in the family as well with a lunch, cards and gifts along with fun family updates, lots of teasing and of course lots of food, usually too much food. It gets more challenging as you know when you factor distance, busy schedules and growing families. But this is what we've been doing for as long as I can remember. We always celebrate Mother's Day, but then we celebrate all these special days of honor.
Mom recently celebrated her birthday this past February and that celebration with family came with a twist. All 16 of us (4 couldn't make it) arrived at the main family house in California after making our road trips ranging from one to three hours. Within an hour we were all asked to gather around the living room. It was one of those moments where you know an important announcement of family news is going to be made. There was a little anticipation, but also hesitation. Change was in the air. How will this go down?
Now some of us already knew the news and we had our poker faces in place. It was at that moment that we were informed that mom has the C word. Yes, cancer. There were instant tears around the room. Wow! Breathe and take this all in. Just like that, mom has uterus cancer. It was that quick; the words leading up to the news and life has changed forever.
It's one of those moments you will always remember. We all experience moments like this, where the sadness is so deep and apparent, and emotions start surfacing sooner or later. You want to stay positive, but your mind talks to your emotions and takes you into negative scenarios. Even with today's modern medicine, we all know what things like this can do and how they can turn out good or bad. So, we become determined to stay positive.
There is no rule book, no directions on how to deal with these rushes of emotions. However, for me, my recovery has given me tools on how to intuitively handle these situations. First things first, Next things next and in that order. This is where faith and the power of prayer take center stage.
Once it was diagnosed and confirmed stage three uterus cancer, immediate surgery was performed, and chemotherapy has started.  It's not easy for mom, thankfully we have a team of excellent Doctors and support care, family love and support. Fortunately for mom she has a strong spiritual faith that brings her the serenity to recover.
My mom's situation can be anyone's similar situation. When I first started hearing in 12-step meetings shares about the different types of mothers that people have, I gratefully realized I had the loving, supporting, traditional type, or I should say best loving exceptionally special type.
Mother's Day is in a few days and many of us will celebrate to honor all mothers and express gratitude. Most countries including US, Australia, Canada and India celebrate Mother's Day on the second Sunday of May. You must wonder though how many more years of mother's days are left to celebrate with mom. Have all the conversations been said. Have all the words been said and heard that should be. Have we done all the things we want to do with mom or for mom?
We wish all moms a beautiful Mother's day and a lifetime filled with happiness and love for all the hearts you have touched.