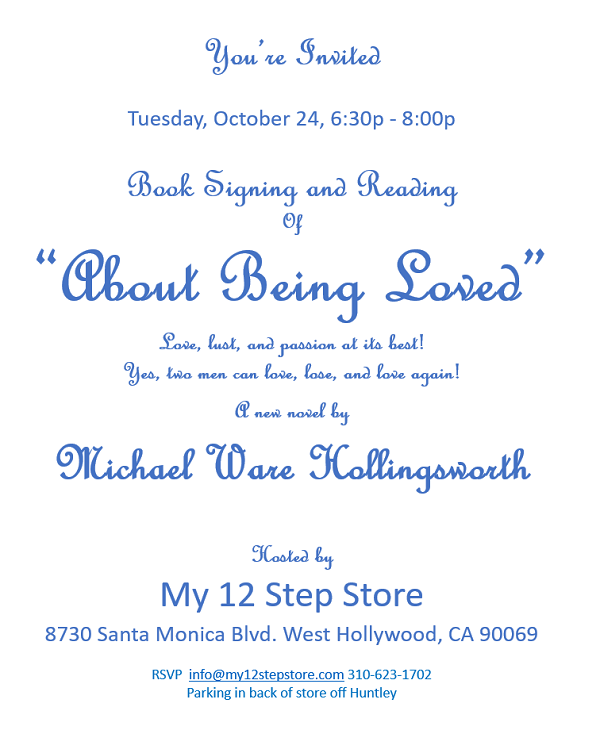 Often in recovery, we set new goals and start making the time to achieve them. Writing a book seems to make the list quite often but not always, does it actually happen.
At My 12 Step Store we support and carry many books of local authors, along with having book signings and conversations about the book. Mostly relating directly to recovery and sometimes not, just experiences from someone in recovery.
A new book we offer "About Being Loved" A Passion Worth Fighting For by Michael Ware Hollingsworth, is now in store. We asked Michael a few questions about himself so you could have an idea where he's coming from.
How would you describe yourself?
I describe myself as a sober man who tries to live a spiritual
type of life.  That means being of service, working a program, showing up for commitments, who tries to be kind, gentle, honest.  I'm a good friend, good uncle to my nephews and nieces.  It also means being of service to my community, my program, my sponsees.  I work hard for my clients. I'm a good soul.
When did you get into recovery and why?
I stopped drinking on October 22, 1985.  I got sober, because my
life was taking unsafe, and unhealthy turns.  I knew it was time,
and I didn't want to drink anymore.
What careers have I had?
My present career is one as a caterer and event planner.
I'm also a published author who is writing his second book.
What inspired you to write a book?
I broke someone who broke my heart and I decided to write a book as a catharsis.  I was missing New York, so I placed the book in New York with all my favorite places and restaurants and theaters.  I loosely
based the character Drew on myself.  I created a love affair that I wish I had.