Premiere Alcohol-Free New Year's Eve Event 
FREE registration at:   www.boomweho.com
The first 300 people to register  (boomweho.com) will get a unique "Party in a Box" with decorations, swag, and gifts to help make your party space festive. 
You will be emailed if you receive a Party in a Box for pick up at My 12 Step Store West Hollywood USA.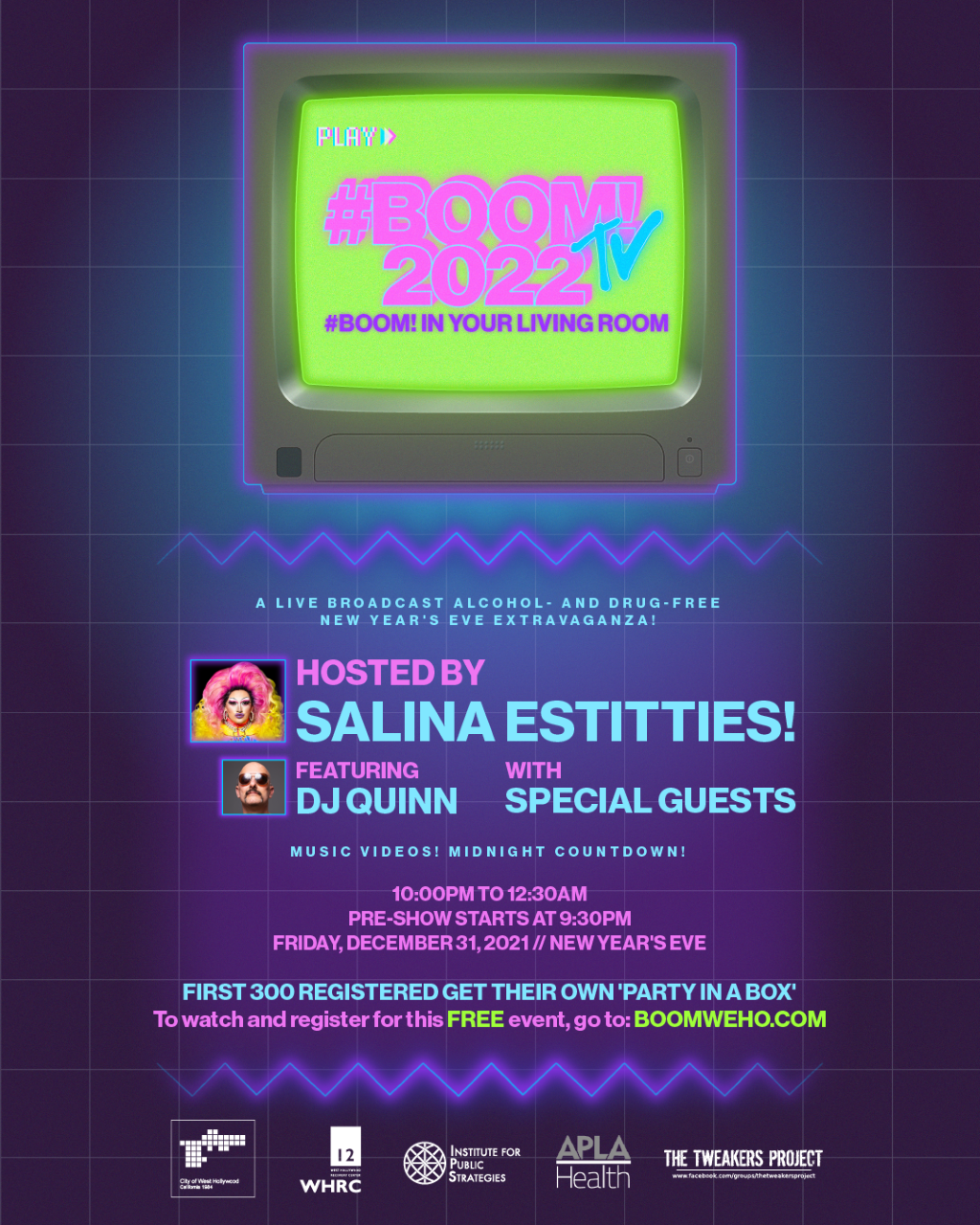 Starts Friday, December 31, 10pm – Midnight (Pre-Show at 9:30) 
#BOOM! is Back! After the pandemic forced the cancellation of #BOOM! 2021, the West Hollywood Project is excited to announce #BOOM! 2022. It's the 8th annual glittering gala known in WeHo as a festive party without alcohol or drugs.
Party in Your Living Room 
Due to the ongoing pandemic, this year everyone from West Hollywood to New York is urged to watch #BOOM! in their living room (or other comfortable space). #BOOM! will be streamed live on boomweho.com. The gala affair features celebrity guests, music videos, live musical performances, and a midnight countdown. The host for the evening is LA's premier drag artist Salina EsTitties.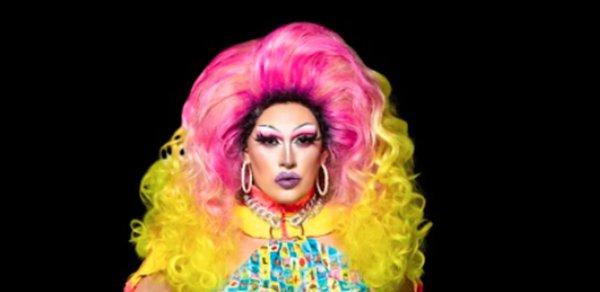 "As an original founder of #BOOM!
I am still amazed at the dedication and originality that goes into producing this sober, West Hollywood anchor event every year. This year, even during a pandemic, the team will bring something virtually, that will beat all virtual program events.  I am so proud to be involved!" said Jimmy Palmieri, Founder of The Tweakers Project and Chair, West Hollywood Human Services Commission. 
WHY? #BOOM! 
As LA struggles to control the meth epidemic, health advocates emphasize partying without substance use. Its purpose is serious and impactful. Anxieties, isolation, and depression experienced by many people throughout our area as a result of the pandemic,  is linked to a major spike in drug overdoses and alcohol use. Additionally, the holiday season can be a particularly challenging time for people with substance abuse or mental health issues. #BOOM! provides a fun outlet with repeated emphasis on having a good time without alcohol or drugs.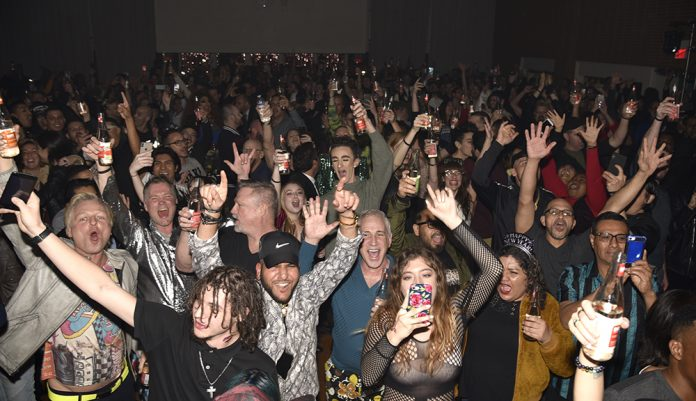 #BOOM! is always a blast!
"It's amazing to see people enjoying a great time without drugs or alcohol. #BOOM! provides a great service to the LGBTQ community by giving people recovering from addiction a safe space to celebrate and also helps to shift social norms away from alcohol and drug use. I'm looking forward to taking this year's celebration into the virtual space and hoping everyone enjoys the celebration," said Dean Ambrosini, Prevention Coordinator for the West Hollywood Project. 
#BOOM! 
Is spearheaded by the West Hollywood Project, an initiative funded by the L.A. County Department of Public Health, to reduce alcohol and drug-related harms in West Hollywood, where more than 200 alcohol-related businesses are located within its 1.9-mile city limits. #BOOM! In Your Living Room starts at 9:30 pm on New Year's Eve. Co-sponsored by the West Hollywood Project, APLA Health, and the West Hollywood Recovery Center. 

for products, books, meeting chips and gifts visit us at www.my12stepstore.com